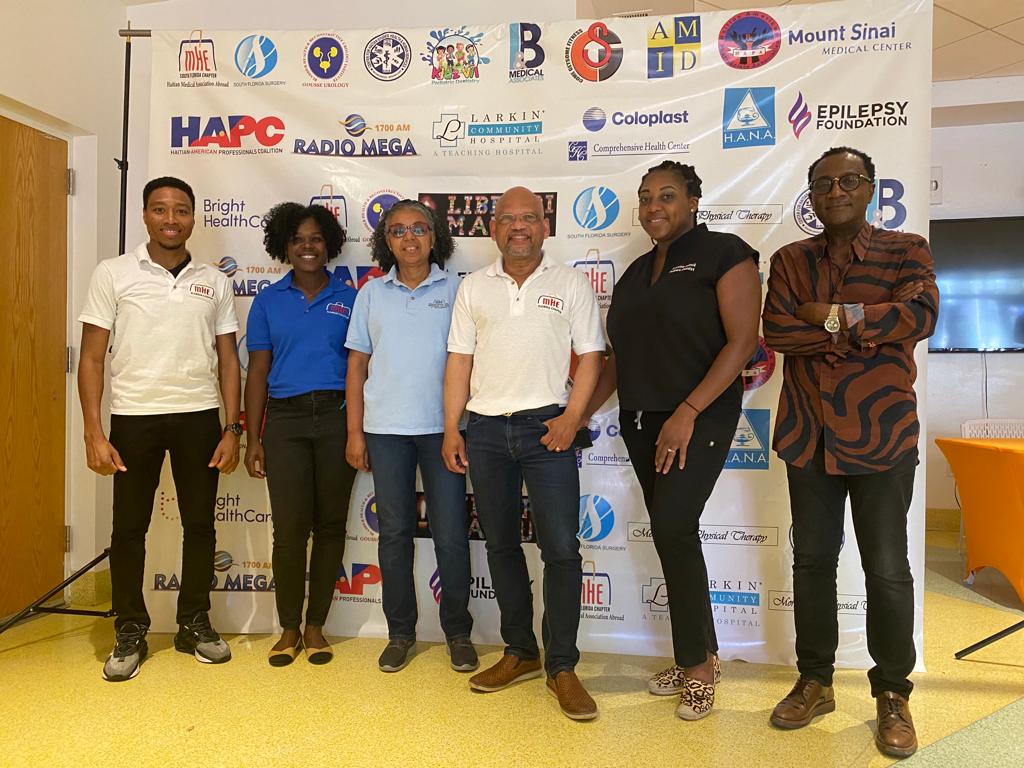 The Association of Haitian Physicians Abroad was founded in August 1972, by a group of Haitian physicians determined to mark their presence as a growing ethnic entity in America, to foster professional alliances, and to promote the health and interest of the Haitian immigrant community at large. The first general assembly, which took place in New York's Harlem Hospital on November 12, 1972, brought together sixty-four physicians with a common agenda. Their objectives, subsequently sanctioned in the Article of Incorporation and bylaws of the association, were laid down as follows:
To help the Haitian physician in the fulfillment of his professional and social life.
To serve as advocate for the Haitian immigrant community in health related matters.
To cultivate professional ties, with the Alma mater.
To contribute to the advancement of medicine and the betterment of public health in Haiti.
The essence of the association has been defined by its obligations toward its members, toward the Haitian community and toward our homeland. Haitian physicians in various parts of the North American Continent received the news of the creation of AMHE with great enthusiasm, and soon several local chapters were created.
Angelo Gousse, MD (President), Elizabeth Philippe, MD (1st Vice-President), Francelot Moise, MD (2nd Vice-President), Leon Gedeon, MD (General Secretary), Irwine Sainvil, DDS (1st Assistant Secretary), Sabrine Semoin, MD (Treasurer), Vanessa Verna, MD (Assistant Treasurer), Rony Jean-Mary, MD (Immediate Past President)
After a four-year tenure as  Vice President, Dr Angelo E Gousse serves as the current president of the AMHE South Florida Chapter. A graduate of Yale University School of Medicine,  Dr Gousse  is one of the very few fellowship-trained reconstructive and neuro-urologists in the State of Florida. Dr Gousse ( Clinical Professor of Surgery-Urology at FIU )  is  the Fellowship  Director of Female Pelvic Medicine and Reconstructive Urology at the Memorial Hospital Miramar. Dr Gousse is a former tenured Professor of Urology at the University of Miami Miller School of Medicine, Department of Urology, Vice-Chairman of the University of Miami Hospital and Clinics Urology service, where he was also the Urology Residency Program Director and Fellowship Director for more than ten years. His academic and teaching  activities are now at an international level.
READ MORE of Dr. Gousse's Biography…
Dr. Elizabeth Philippe is the Associate Graduate Medical Education Director of Community Health of South Florida Inc.'s Teaching Health Center. She is also CHI's Chief of Family Medicine.
Dr. Philippe got hooked on helping people in underserved communities after graduating from the State University Medical School of Haiti in 1984. She discovered this passion when she was completing a one-year requirement in a disadvantaged area in Haiti. To further her goals, she pursued her studies at Yale University where she obtained a master's degree in public health in 1986.
After working for a short period of time at the New York State Department of Health, Dr. Philippe returned to Haiti in 1987 to work as the Medical Director in the Albert Schweitzer Hospital's Community Health Department.
READ MORE of Dr. Philippe's Biography…
Dr. Leon Stephane Gedeon is a board-certified family practitioner that takes a holistic approach to providing care that focuses on preventing, rather than primarily treating illnesses. "Often, patients don't feel sick until they're very sick, as is the case with diabetes and high blood pressure." Among my roles as a primary care physician are to help patients understand the benefits of preventive medicine, teach them about their illnesses, and together develop a plan to manage their problems before they worsen or develop other issues."
Dr. Gedeon is tri-lingual (English, French, Haitian Creole) and provides patients a medical home where they can take ownership of their care and avoid using the emergency room for non-emergent medical problems. He does this by establishing trust, often with the entire family, and providing patients with care plans they can implement.
READ MORE of Dr. Gedeon's Biography…
Dr. Sabrine Semoin is a general surgeon who specializes in minimally invasive laparoscopic and Robotic surgery. She Practices at South Florida Surgery in Miami, and is affiliated with various hospitals, including the Jackson and Memorial Health Systems.
Dr. Semoin obtained her MD degree from Howard University College of medicine, and completed residency at the Mount Sinai Hospital in New York. Dr. Semoin is board certified in General Surgery and is an accredited fellow of the American College of Surgeons. In Addition, Dr. Semoin holds a Master of business Administration from the Johns Hopkins University Carey business School, with concentration in healthcare management.
READ MORE of Dr. Semoin's Biography…